In short virtual bookkeeping is done virtually over the web without needing the bookkeeper to be at the businesses location.
Bookkeepers work remotely using the internet, the cloud, and other software and technology to perform bookkeeping services and other requirements of their client.
A virtual bookkeeper can offer bookkeeping services to clients Australia wide, without leaving their office.
To facilitate this remote service, Open Bookkeeping has a proven formula to make the steps easy to understand and cheaper than on site services.
After making your initial enquiry of Open Bookkeeping, we set up our first 'appointment'.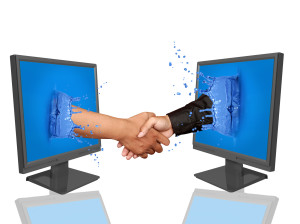 In Open Bookkeeping an 'appointment' can either be held via skype, over the phone at a set time or even through a series of emails over the course of a day.
After the scope of the arrangement is known, an engagement letter is created that entails all the responsibilities of each party, important dates and expected pricing.
After terms are agreed upon by both parties an appropriate method of online accounting software is chosen, we specialize in Xero and Myob.
Clients then get instructions on how to log onto our secure data transfer service to send their current data file across to Open Bookkeeping, if appropriate.
Source documents are then required by Open Bookkeeping to complete each BAS  or IAS.  Open Bookkeeping will then send out a check list detailing the documents required.
Getting the source documents is the tricky part of virtual bookkeeping, in the past they could be dropped off for the bookkeeper or the bookkeeper could collect from the client.  With virtual bookkeeping there are a number of safe methods of sending the documents  to Open Bookkeeping, you just need to work out what works best for you.
Scanning into a Google Drive, scanning into 'Shoebox' a secure data transfer facility, Registered mail, or even just scanned into emails and sending.  We usually make a recommendation to the customer based on a number of factors.  (All costs associated with source document transfer are reimbursed if detailed in the engagement letter.)
After the bookkeeping part of the agreement is finished and all reports are completed, Open Bookkeeping will then email you the submitted BAS details if appropriate and all the reports pertaining to that period.  The source documents are either filed at Open Bookkeeping or returned to you depending on your preference.
For any questions or comments contact us and we will be happy to discuss your individual needs or concerns that you may have.